Our delegation is arriving in Belarus this week and we are still waiting for permission to begin delivery of our 2 containers of aid that we shipped this year.  In the meantime we are preparing our other initiatives and meeting with our partners and friends.
Today we went to visit our friend Ilya who was very excited to see Rhona who had hosted him for several summers in Brockville.
We first met Ilya in 2008 while touring the Chausy Hospital. Here he is in 2008 with one of our delegates:
He was only 11 years old but his size was more like a 5 or 6 year old. We found out that he came from an extremely difficult family situation and we were able to get him placed in the Chausy Orphanage where he would get excellent care and attention. When he became too old for the orphanage he attended a technical training school for a few years.
Two years ago The Chausy Psychiatric Home was opened near Chausy and we were able to have him placed there.  This is where we visited him today. Here is picture of the outside of the newest building: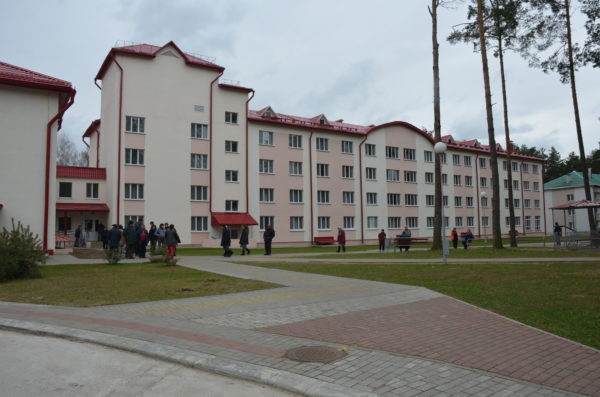 Our group was given a tour of the facilities where we met many of the residents and staff. One of the staff members is a good friend of ours, Lena Stanovaya (3rd from right). She and her children have been to Brockville several times and she previously worked at the Chausy Orphanage.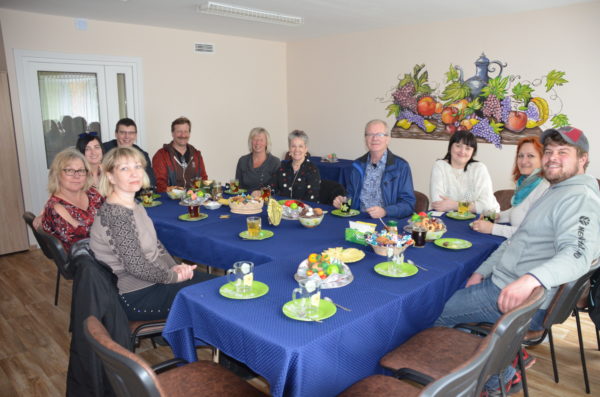 The floor that Lena works on has a group of 26 residents that receive training to help lead them towards independent living. One of the programs that they had really wanted to provide was teaching basic cooking skills. In order to do this they required a kitchen that was not part of the original scope of this institution.  Thanks to a generous donation from Heather Howard and family we were able to help them realise this dream.  Here are Cathy and Rhona with Ilya in the new kitchen:
They also have a small mock-store that helps them learn about purchasing food and other products as well as paying and making change. Here is part of the little store:
This is a wonderful modern facility with caring staff and excellent programs.
Before we said goodbye, Rhona slipped Ilya a few treats and he quickly hid them in his bedside table with a big grin and a wonderful giggle.
As we headed for the parking lot we looked back and there was Ilya waving to us from his bedroom window. After touring the facilities, meeting the staff and seeing the smile on Iyla's face, we all agreed that we could not have found a more perfect home for Ilya!
Eric McKenzie