I mentioned in an earlier post that we are replacing a roof on a house and here is the before picture.
The house is one that was purchased last year for a young family.  Sasha, the father, suffered a stroke at 28 years old and was deemed "invalid" by the state and unable to work.  The house was purchased through the generosity of Heather Howard and Jeff & Leanne Butler. This year a group in Brockville headed up by Mary Bernard and friends packed a lot of boxes with food, clothing and household goods. We also realised that the roof needed to be replaced so we arranged with a local carpenter to work on this project while the Canadians are here.
Here Sasha and their daughter Violetta are working outside cleaning up and organising some of the scrap from the old roof.
Marina and Violetta posed for me in front of the wall of boxes that we had delivered.  Violetta was so excited she looked like she was going burst!
First they stripped the whole roof right down to the attic floor and then started building new from there.  Here is our main crew; Canadians Colin and Pat with Genna and Misha, who is the main contractor on the job.
They completed the front two-thirds first before stripping the back part of the house.  Here they are starting putting on the steel sheeting on the front.
This morning they removed the back third of the roof and started rebuilding it.
They had to build a structure to support the new roof at the same level as the front part of the house.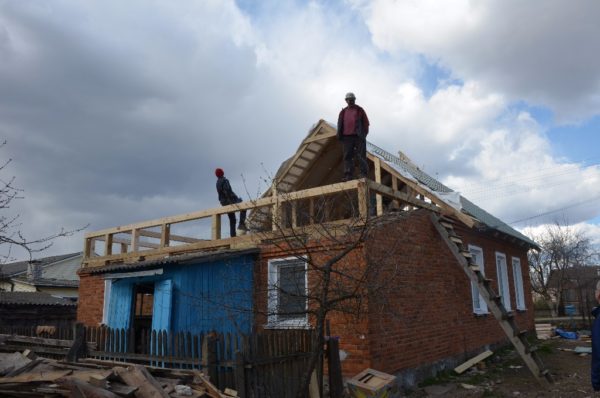 Here is the whole family, Sasha, Marina, Violetta (6) and Yaraslov (15 months).
I have to say this is one of the sweetest families I have ever met. They are kind and thoughtful and constantly making sure the construction crew have food, coffee, tea and anything that they need. They both cook big lunches and Sasha helps out anywhere he can on the site.  We could not have helped a more deserving or appreciative family!
A helping hand, with heartfelt gratitude!
Eric McKenzie