Yesterday afternoon the children in our "Relief from Radiation" program arrived in Brockville to a cheerful and sometimes tearful welcome.  Here Paulina receives a big hug from her host Mom, Angie Patterson.   This is Paulina's second visit to the area.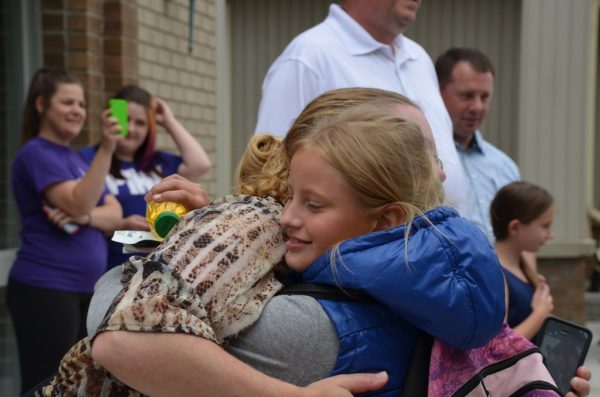 The children will spend 5 weeks here where they will enjoy fun times with their host families, but most importantly give their immune system a much needed break from the radioactive environment that they live in.
Here Byron and Cathy Boone are greeted with enthusiastic hugs from two of the three sisters that they are hosting.  Although it is the girls first trip to Canada, they know Byron and Cathy from the Boone's trips to Belarus with Canadian Aid for Chernobyl.
In this next picture we see Sergei with his Canadian buddy Corbin.  Sergei's mother came to Canada when she was a young girl and she is thrilled that her son is now getting the same opportunity.  He is being hosted by Corbin's family.  Corbin and his Mom, Jennifer Evans, travelled with us to Belarus this past Spring where Corbin and Sergei became good friends.
These two girls both live in a small village in the Chausy Region where they are best friends.  They are being hosted by Dave & Susan Shaw along with their daughter Riley (centre).  This is Kristina's (left) second visit to Canada and Masha's (right) third.
And here is a shot of the whole group before boarding the bus at the Ottawa airport, happy to finally arrive after their long journey of approximately 21 hours that included 2 airplanes, 3 airports and 2 buses!
Let the summer begin!
Eric McKenzie