Not only is our delegation starting to get excited for the upcoming trip to Belarus, but the people of the Chausy area are getting excited too!  After 18 years of annual deliveries and interaction, the Canadians arrival has become a regional tradition and of course the children cannot remember a time when we didn't come!
Our fund raising is going incredibly well.  The food box program is now 100% funded with $30,000 raised to deliver 600 food boxes.  Thanks you so much to everyone who contributed!
We completely filled 3 containers (each one 40 feet long) and they are leaving the Port of Montreal today to start their journey.  They arrive in Riga, Latvia on March 21st.  Here is the last container with some of our volunteers.
The funds needed to pay for the shipping of the containers is almost complete with only $2,500 left to raise out of the $23,800 total!
Thanks to a wonderful donation by Paul and Laura Moss, the Social Workshop is now completely funded.  However, we still need to raise the funds for the operation of the mini-van used to transport the children to and from the workshop.  We have an annual operating expense of $5,000 to cover as well as another $2,000 in necessary repairs.  Irina averages 200 km per day and for many of the children and young adults with physical and mental challenges, this is their only connection to the outside world.  The workshop is having a major impact on their lives, but we need to get them there!
Here Irina shows some of our Canadian delegates how the crafts are made.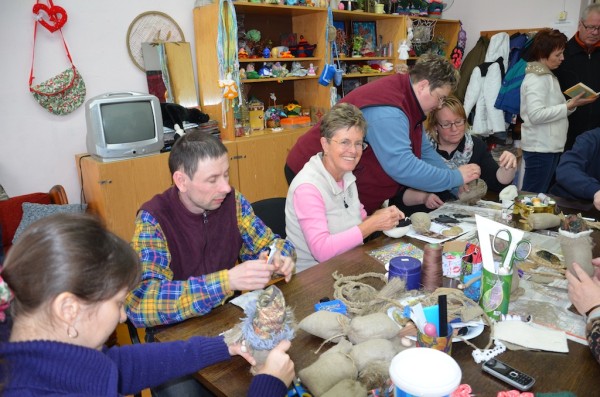 Through the power of social media and improved communications, we are now truly feeling the excitement build in Chausy even before we arrive.  We are getting more and more messages requesting us to come and visit specific families and organizations as well as requests to help out neighbours and families in dire need.  With a total of 128 containers of aid, our projects and initiatives along with our 18 years of history, we have built a lot of strong relationships and trust.  Whether a specific project's impact is felt by the whole community, a group of people or just one child, each one is a building block and we have built a strong foundation.  We have seen changes in motivation and changes in community attitudes towards others.  Like my friends in Chausy, I can't wait to see what this Spring will bring.  Rest assured, the Canadians are coming!
Eric McKenzie