Yesterday we held our 4th annual birthday party for the children of the Chausy Orphanage. Again this year it was hosted by Corbin Evans, a grade 8 student at TISS Intermediate school. Corbin raises the funds for this party through various means throughout the year including bottle drives and Crispy Creme donut sales. Here is Corbin and his Mom, Jennifer, dancing at the party. Needless to say the party was a huge success.
Before we see a few more pictures from the party, I'll back up to a couple of other activities from the day.
We toured the Chausy Hospital to see many of the past renovations that we have partnered to help complete, most with the Don and Shirley Green Family Foundation. Here (from left) Natasha, our interpreter, the new Hospital Director, Bill Maxwell, Laura and Paul Moss (all of Brockville), Anya (driver and interpreter) and Dave Shaw our director of Humanitarian Aid.
Here is a wall mural of the 1000 Islands with a dedication to Don Green in the paediatric ward.
We also met with Oleg, the Director of the Chausy Orphanage, to review the past year as well as plans for 2019.
The Canadians did an amazing job of decorating the gym for the party.
The cake was beautiful and included pictures of the children doing various activities.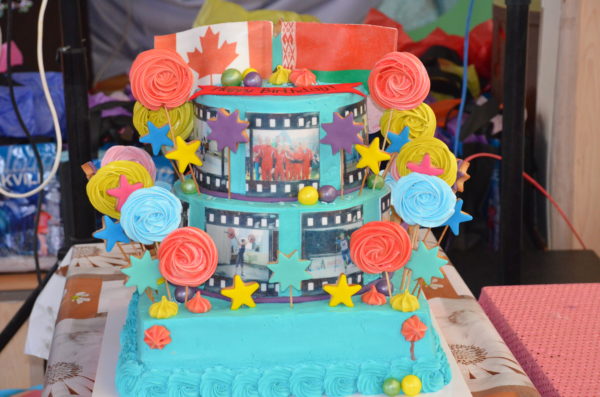 Every child received a gift from Corbin.
Birthday Cake, chips and pop for everyone.
At 9 pm we stopped for fireworks before heading back inside for music and dancing with professional disc jockey's and entertainers.
All of the children had a wonderful time!
The adults too!
What a wonderful time of celebration and camaraderie. It is so much fun to get this chance to interact with the children and watch them let loose and have a ball. I'm pretty sure they had almost as much fun as the Canadians!
Eric McKenzie