Our deliveries of food boxes to the social services families are both the best and the most difficult deliveries.  These are families and seniors in very difficult circumstances.
Our first delivery was to a family with 4 children.  They live on a collective farm near Antonivka and when we arrived no one was home.  Within a few minutes the Dad showed up in a wagon pulled by a horse.  It looked like a scene from the movie "Ben-Hur" and I have to admit it looked pretty cool as he came galloping around the corner!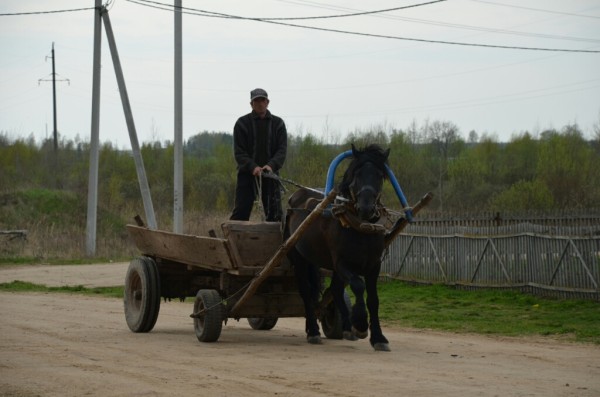 Most of our deliveries are to very rural homes that are on roads that look like this.  The van is carrying our load of food boxes and we are following in a car.
Here is a family of 5 children that we delivered to, four boys and an infant girl.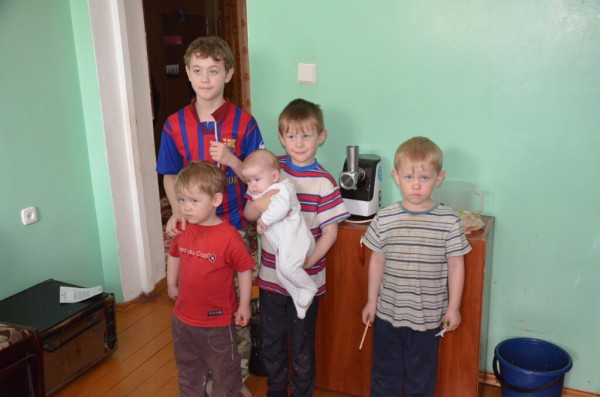 This woman lived at the very end of a road in a house with a leaky roof.  She was very pleased to get some help to make it until her garden could produce some vegetables.
Margaret presented her with a beautiful hand-made quilt to help keep her warm on a cold night.
The delegates tend to carry a bag of "goodies" to hand out on these deliveries.  They include clothing as well as toys for children of all ages.  Here Shaunon gives a few stickers and some toys to a child.
Here a Mom with her 3 children receive a food box and a quilt for the baby.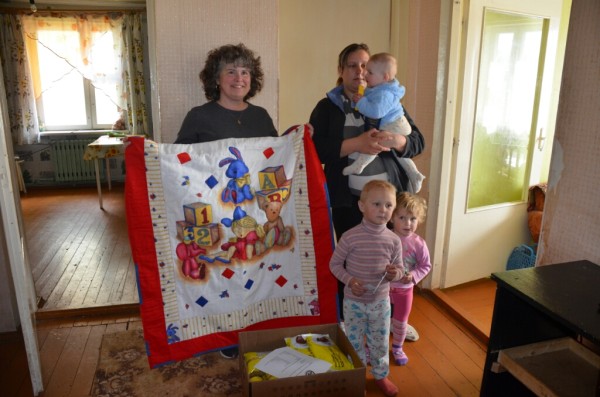 This next delivery was to an 80 year old woman named Jenya.  The social services have tried to move her to a seniors residence but she has refused to move.  This is the only home she has known for her whole life.  Margaret gave her a hand-made quilt to help keep her warm.
Her house is literally far from everywhere.  We have no idea how she gets food or medicine on a regular basis as she is very stooped and gets around very slowly using a branch from a tree as a walking stick.  Here Vika explains to her what the items are in the box and where we are from and why we are here.  Vika is absolutely amazing with these people, she is so caring and compassionate and very quickly puts them at ease.
This woman had a tear in her eye as she told us a bit about her life.  Her father was sick in a hospital far away (and later died) when the Germans showed up during World War 2.  She was 8 years old and the German soldiers told her and her mother to run away as they were afraid of the partisans in the area.  This is the only reason that she survived!
It is hard for us to imagine the things she has witnessed in her lifetime, but not so hard to realize why she wants to spend her last days in her own home.  Here is a picture of her home from the outside:

I'm pretty sure our team will sleep well knowing that they have made a tremendous difference in many lives, but the knowledge that we have made life for Jenya just a little brighter with a box of food and a visit from a few caring foreigners is enough to keep me motivated for a long time to come!
Eric McKenzie