The Canadian delegation has started to arrive in Chausy and things are getting underway.  We had a wonderful morning delivering books to a remote school in a village called Ustiya.  Here you can see Dave Shaw and the school Director along with some of the children holding up a few of the approximatly 250 books that we delivered.
This reading program was started many years ago and run in conjunction with various schools in the Brockville region.  This year the program was headed up by Riley Shaw who is currently teaching at the Canadian International School of Hefei in China.  Riley started a program called "Building Libraries through Literacy".  The children in her school were challenged to get sponsors and read as many books as they could in a 5 week period.  Incredibly they raised $8,600 US! Half of this money was used to buy books for impoverished schools in China and the other half to buy books for the children in the Chausy region of Belarus.
With the $4,300 raised for Chausy we were able to purchase approximately 1,000 books!  Svetlana Simenava of our partner organization "Hope for the Future" personally selected and purchased the books and they will be distributed to 4 schools, 3 of them small rural schools in Ustiya, Volkavichi and Gorbavichi as well as to the orphanage here in Chausy.  These were all chosen to be read for enjoyment and to spark the imagination of these children.
Here Dave is with the school Director and our interpreter Natasha.  They are joined by 3 of the students from the school, Tanya, Masha and Kristina.  Masha and Kristina are part of our summer "Relief from Radiation" Program and have benefited from a few summers in Canada.  The program benefits not only the children in the schools receiving the books but the children raising the funds often get hooked on reading through the program as well as being part of a program that helps other children.
I couldn't resist putting in a picture of these two little cuties, they were the youngest in the school and only students in class #1.  This little school has only 34 students and is built in a converted apartment building.

It is wonderful to be arriving a little later this year.  Everything is starting to green up and the leaves are about to pop on the trees.  Of course the weather is warmer as well.  We have seen many storks in nests sitting on their eggs and getting ready to "deliver" their own babies.
This horse is enjoying some freshly sprouted grass.
Of course the real reason we arrived a little later this year was to have more time to get our shipment cleared through Customs and that has been very successful.  Everything has been released and with the rest of the Canadians arriving on Wednesday night the delivery will get underway in ernest on Thursday.  I managed to bring home the parcels I shipped for my host family tonight and this little 7 year old was thrilled to receive a brand new Star Wars bicycle!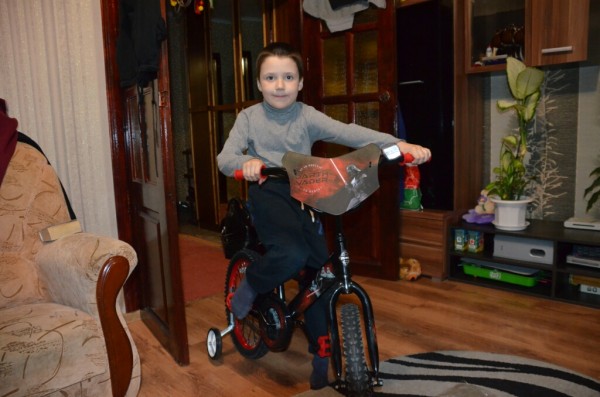 Tomorrow we will deliver the rest of the books as well as get started on a few other projects we have underway … stay tuned!
Eric McKenzie