Last night we had the party to end all parties at the Chausy Orphanage.  Corbin Evans, an 11 year old student of Vanier School in Brockville and in a leadership role of the Rotary Clubs EarlyAct program organized the party with his fellow members in Brockville.  They raised the funds and purchased gifts for every student in the orphanage.  Everything was shipped over in our containers, including party favours and decorations for the gym.  We hired a professional entertainment group from Mogilev where we also purchased a giant cake.
Here is Corbin at the party with one of the children from the orphanage.
Corban and his teacher Michelle Peters handed out personal gifts to every child.
Then we connected by Skype to Vanier School where the children in Brockville sang them happy birthday and watched them open their gifts.
Here are a few of the kids unwrapping their presents.
The entertainers were fantastic, they really got the children up and dancing and playing games.
They even had a smoke machine and lots of excellent lighting effects.
Is is Corbin taking a massive group selfie.
Here Annis hands out the cake, the children also received chips, candy and pop!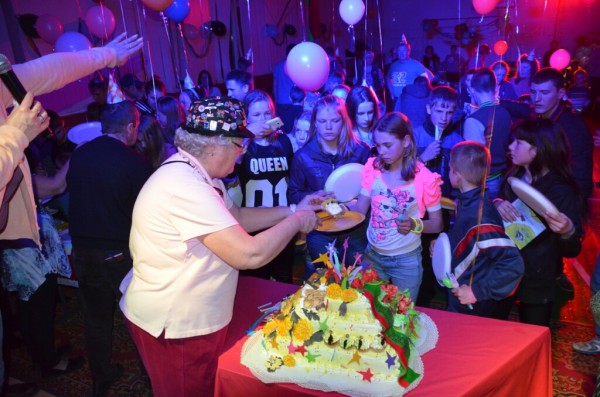 The party ended with more dancing and a big shout out finale.  When the lights came up Dave spotted a little girl with tears in her eyes and he asked what was wrong, she replied that she didn't want the party to end as it was the best night of her life!
Please enjoy the pictures below of the children enjoying this amazing event organized by Corbin and Canadian Aid for Chernobyl, we are so proud of him and his classmates for such beautiful gift for these children.
Eric McKenzie