It is hard to believe that the trip is almost over.  Most of the Canadians have headed home over the past few days, three more leave tonight and Alex and I head home tomorrow night.  As we get closer to leaving there are always a lot of loose ends to tidy up as well as meetings to attend.  Today was one of those hectic days that seems to include many bright memorable moments.  I will try to give you an overview and hit the real highlights.  A few of the delegates brought sample "Shoeboxes for Seniors" with us in our luggage and we were able to make a presentation of a few today, but more on that in a minute.
Dave and I started out with several meetings.  The first with Mayor Sergei Alexandrovich of the Chausy region (below left) followed by another with the Deputy Mayor Vitalli Nicholiavich (below right).  We were able to update them on our progress and discuss future plans as well.
Afterwards we met with Galena, who is the head of Social Services and our official receiver in Belarus.
Five of us also managed to squeeze in a visit with Sasha Krasakov and his Mom and Dad.  Sasha came to Canada 10 years ago for treatment at the Shrine Hospital for Brittle Bone disease and he looks forward to a visit from the Canadians whenever they are in Chausy.  As I told Sasha, no visit to Belarus is complete without a stop at Sasha's house!
We also managed to finalize our support at the Chausy Orphanage in both the music and agriculture programs thanks to a generous donation from Anne and David Beatty of Brockville.  We left funds for instrument repair, sheet music and some private lessons for a few kids who excel in music.  For the agriculture program, we delivered a walk-in fridge and walk-in freezer as well as the funds for installation.  There will be 90 new laying hens as well as 50 meat birds (broilers) for the spring and another 50 in the fall.  Five weanling piglets will arrive in May and of course feed for all of the animals above.
On the gardening side we left funds for tractor fuel and repair as well as for seeds to grow many varieties of vegetables, including; potatoes, carrots, beatroot, onions, cabbage, tomatoes, garlic and more!  Here is a look at the hens in the poultry barn.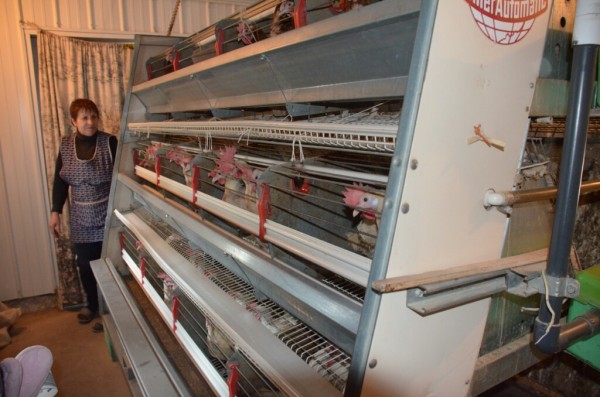 A real highlight of our day was being able to present several war heroes with gifts of the "Shoeboxes for Seniors" that we brought, an initiative headed up by Mary Bernard of Brockville.  This year we have 900 shoeboxes for the Social Services group filled with all sorts of wonderful gifts including; many toiletry items, reading glasses, razors, socks, first aid items and much more.  After the war veterans, the balance will be given to the elderly in the small villages.  It is hard to relate how much these small gifts are appreciated by these elderly members of society often referred to as the "forgotten orphans".
The whole country is preparing to celebrate the 70th anniversary of the "Great Patriotic War" (WW2 for us), so it was with great pride that we were able to present these small gifts to several of Chausy's war heroes.  Here Margaret Barrance presents a shoebox to one of the veterans.
Dave presents a box to one of the women present.
Cathy Boone presents to another war hero.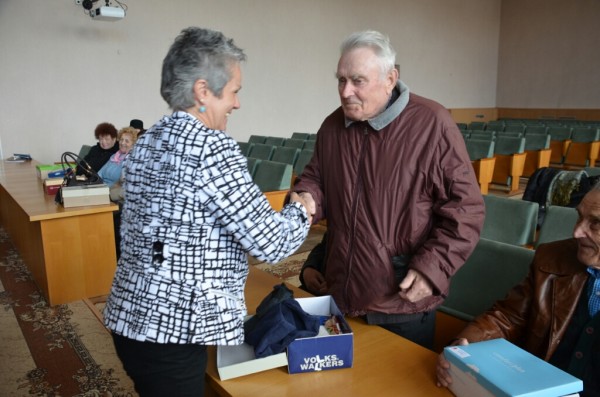 After all of the gifts were given one of the veterans stood and formally thanked us for the wonderful gifts, for the help that we give their children and for remembering them.  He pointed out that the Canadians stepped up to help during the war and now here we are 70 years later helping out in his community.  A sincere and heartfelt hug was shared between every member of both delegations!
Eric McKenzie