We had a surprise visit from a young lady from Moscow this morning.  In 2001, Anya was living in very difficult cirmcumstances in Chausy, it was brought to Dave's attention and he was asked if CAC could help this girl.  Dave approached the orphanage director who spoke with local authorities and Anya became our first "Rescue Child" to be moved to the protection of the Chausy Orphanage.  Here is Anya today with Dave:
In 2003 Anya came to Brockville in our Respite from Radiation program and was then sponsored in our Orphan Education program to attend University for 5 years where she graduated as a Notary and now works in her field in Moscow.  In her words our programs "changed her life"!
At the orphanage today we met with the orphanage yearbook committee to review the transition from the graduating girls to the two new boys who will take over for next year.  We discussed the project and had Karina review the requirements and methods used to produce the yearbook.  They will start now working on some aspects of the yearbook to make the transition easier and of course Stephen MacKinnon will be here in the Fall to work with the boys as well.  From left to right; Vlad, Katya, Karina, myself and Nina our interpreter.
The children of the orphanage were treated to a concert this evening by Andrei Simanev.  Andrei is one of our drivers and interpreters and also a talented singer and musician.  His songs ranged from ballads that discuss the horrors from wars past to fun, happy songs that had the children laughing and singing along.
The children and the Canadians had a wonderful evening.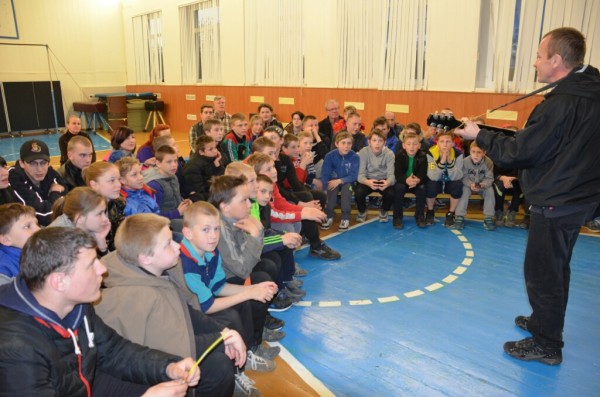 One of the girls who is graduating this year has excelled in music and dance while growing up at the orphanage.  Karina has taken full advantage of the program and equipment that we set up at the orphanage and has always stood out at the concerts that they hold for us.  We have always encouraged the children to believe in themselves, respect themselves and to find and persue their passion in life.  Karina embodies this philosophy as she has chosen to pursue music and dance in a post secondary setting, a path that would never have been selected for her by the school.  Jon Schuler (below right) has agreed to sponsor Karina in her post secondary education through our orphan education program.  This evening, Jon presented Karina with a new laptop computer to kick off her journey and this new direction in her life.  I think her reaction says it all!
Believe in your dreams.  Anya and Karina will tell you, they can come true!
Eric McKenzie