It's a special day for some special children.  Although not yet released from bond, we were able to present a few things today right in our bonded warehouse, the school #1 gym.  Here Dave presents Irina with special learning toys from Discovery Toys for a new "Lending Library" for children with Autism and learning difficulties.  This was a special initiative lead by Laura Weeds Wright of Brockville with contributions from her father, MacGregor Weeds.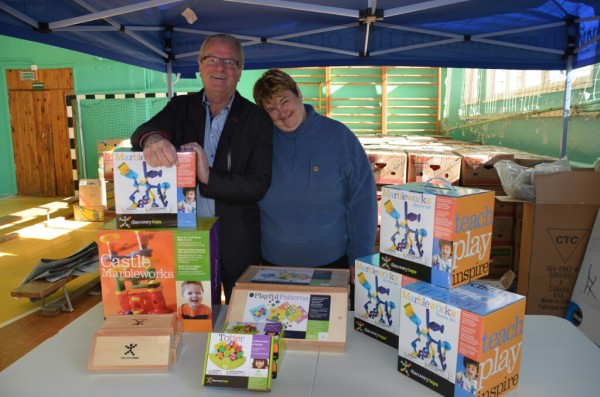 We also presented Irina with a collapsible gazebo that will be used to sell crafts from the Social Workshop at local fairs and markets.  It is printed with the organization name "Talents Without Borders".  Irina was delighted and we know that it will really give the children and young adults a real sense of pride.
Just before the containers left Canada, Laura Weeds Wright posted the following picture and write-up on Facebook about the Learning Library initiative:
Discovery Toys have been found in homes, schools, daycares and specialists' offices, especially the offices of specialists who work with kids with special needs, for over 30 years. The toys in this picture (that's me and my youngest) are headed to Belarus this week as part of a shipment of humanitarian aid being sent over by Canadian Aid for Chernobyl. They will be used to set up a toy library for children with special needs, which is particularly exciting because in Belarus people with disabilities of any sort (and by extension, their families)are often treated as "undesirables." More than just an amazing learning tool for these kids, these toys will show them and the families who love them that they are loved and supported. That they have value. That they are not "undesirable." As the mom of a child on the autism spectrum, I can't tell you how incredible it feels to be part of this initiative.
From CAC and all of the children and families that will benefit from these wonderful learning toys, "balshoi spaseba" (a big thank you) to Laura and MacGregor!  This will be life changing for many children for years to come.  Once again I am blown away by the generousity and creativeness of our community, a need is identified and fulfilled!
Eric McKenzie