Another very busy day. We spent half a day in Mogilev (capitol city of the region) where we are able to shop in larger stores to get what we needed for the school #1 library we are finishing as well as fixtures for a bathroom we are renovating for a young single mother. Here Cathy and Dave are picking out brightly coloured carpets for the library.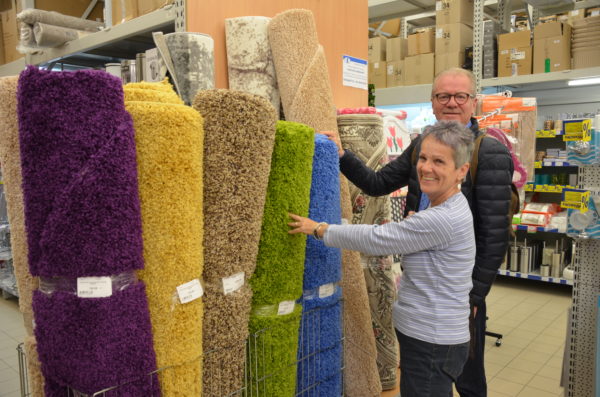 We also had wells drilled today at 2 more rural homes. Here one
of the drillers is "witching" to find the best location to for the well.
This family has 3 children and have some animals to help with food costs. There were chickens, pigs, sheep and a cow that they are raising to eventually provide milk. Since a dairy cow is expensive, they had purchased the cow as a young calf. It has been raised by the family and it thinks it is a pet. It is very friendly and wouldn't let me out of the pen until I gave it a good head scratch!
Bill and Lesia Maxwell of Brockville are sponsoring this well. Here Bill and Dave are heading into the house to meet the family.
We are really pleased to have Bill join us for this years trip. Here is Bill with the family in front of the drilling rig and their home.
The second well we drilled today is sponsored by the students of Fulford Academy in Brockville. The children raised the funds to sponsor this well. This is a family with 3 young children, here they are in front of the drilling rig.
The children had gifts to thank us for providing them with water. It was wonderful to see how much this is appreciated.
Both of these families had a very hard time expressing their gratitude. It is absolutely life changing for them and hard for us to conceive. Try to imagine it the next time you turn on the tap!
Eric McKenzie