For the second year in a row we held a birthday party for all of the children in the Chausy Orphanage.  Corbin Evans, a 12 year old student at Vanier public school in Brockville, personally raised all of the funds necessary to host the party and provide a gift for each of the 80 children in the orphanage.  Hair cuts and styles continued today provided by Corbin's Mom, Jennifer, and his sister Emily.  Both are hair stylists in Brockville.  In this photo Emily adds some curl to one of the girls hair.
Meanwhile Jennifer trims another.
All the children wanted to look their best for the big event!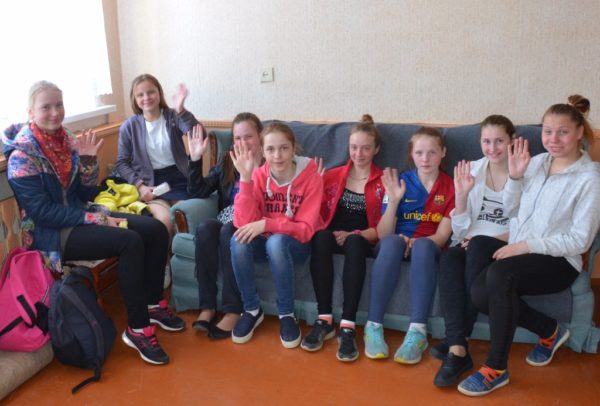 Corbin welcomed the children and wished them all a happy birthday.
We had the students at Vanier Public School on-line to sing happy birthday to the children!  The Vanier school Rotary EarlyAct Club wrapped the presents and raised funds to purchase feed for and replace the laying hens at the orphanage.
We had professional DJ/entertainers hired to run the event and they did not disappoint!  They had many fast paced games that included most of the children as well as a few of the Canadians.
A small professional dance troupe also performed throughout the evening.
Of course what would a party be without cake?
Everyone really enjoyed the cake along with chips and pop … a real treat!
The orphanage directer, Oleg, presented Corbin and Dave with gifts of appreciation from the children.  Corbin's artwork was created by the children and signed by all of them on the back. Dave received a photo plaque with pictures of all of the work that CAC has done at the orphanage.
And of course everyone danced!  Loud music, flashing lights and fun, fun, fun.
We even had a fireworks display near the end of the night.
Check out these beautiful smiles, it's pretty clear that they had a great time!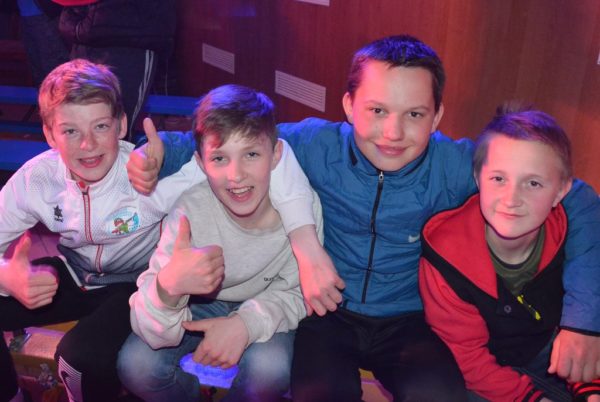 What a wonderful evening for these children and the Canadians too!  It was a real time of bonding with the children and the director said that it is amazing to watch the children come together, let their hair down and just have pure fun with music, dance and laughter.
Hearts lifted, joy achieved!
Eric McKenzie